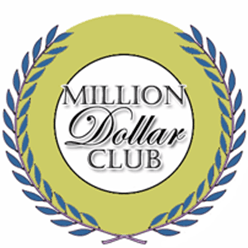 What is the Million Dollar Club?
The Million Dollar Club is a club created by J Money from Budgets are Sexy. The intention is to create a list of realistic goals that need to be reached, for you to reach millionaire status.
The purpose behind the club is to write your goals down, to remind yourself why you are saving. The list can be reviewed periodically to keep you motivated.
Becoming a Millionaire vs Reaching Financial Independence
No, these are not the same thing. You don't need to become a millionaire to be financially independent. This could be a whole other article!
But basically, it all comes down to how much you need to have returning from your passive income each year. If your able to achieve a 7.2% return, and you have only €30,000 worth of expenses each year, then you would need just over €415,000 in total to be financially free (this is based on assumptions of exchange rates, tax payments, your expenses, risk tolerance etc.). Generally, most people would need less than €1,000,000 to achieve Financial Freedom.
With €1,000,000 in the bank, your looking at a cool €72,000 each year. Not bad.
My Million Dollar Club Pledge(s)
For me, to become a millionaire, I pledge to do the following (each year):
Continue blogging
Blogging is great and has a couple of purposes:
My monthly updates

keep me accountable

for my finances. I am always aware of what position they are in, and always ready to re-distribute as required.
Articles don't write themselves. I research a lot of topics before writing. This helps with

learning about financial independence

and various other ways of being frugal.

Bringing in side income

. Currently the blog doesn't make much money, however, if I keep going, I am sure I will be able to have the blog as one of my main income streams.
Continue investing in current investments
Each month I have a set amount that I distribute into various investments (P2P Platforms, Crowdlending, Index Funds etc.). I will keep putting that set amount away each month and watch the miracle of compound interest at work.
Be open and aware of other sources of passive income
Continuing to find other sources of passive income.
Spend less than I earn
I will spend less than I earn annually.
Reduce expenses
Currently, the plan is to aggressively pay off the house in 10 years. We are nearing the end of year 1.
Pay off current debt
Pay off current student loan in a smart and reasonable way. To do this I am using the dividends of my investments, to pay down the loan. Find out more here.
Never take on personal debt (excluding mortgage)
I currently only have a small student loan that I am in the process of paying off, and a loan on my current house. I do not and will not take on debt for purchases (such as a car, travel, other unnecessary wants etc).
Keep household expenses low
Reduce food bill by planting vegetables. Power bill by having heater set to low during winter. No pay TV or other music or video streaming services.
Become more sustainable
Currently, we are already producing a lot of vegetables and fruit from our garden. I have also been looking at changing our power to either solar or wind (or a mix).
Always have an emergency fund available for when needed
Ensure that:
the emergency fund never gets too low
salary safety insurances are always paid.
Continue learning
Continue to learn more about investing and ways of achieving financial freedom. Further learning in developing my website.
Continue to build my relationships in the financial independence community
By being involved in the Financial Independence Retire Early (FIRE) community, I am able to learn from the good (and not so good) experiences of others. I will keep commenting on other financial independence blogs and be apart of the wider community. It's all about the collaboration with other like-minded individuals!
My Current To-Do List (Actionable Items)
Pay off my student loans (within 5 years).
Pay off the mortgage for the house (within 10 years)
Start putting money into index funds in my Swedish ISK (tax saving account)
Grow my blog (side hustle) to a level that I can live off
Become financially independent (not the same as being a millionaire)
Quit my 9-5
Build net worth to 1,000,000
My Progress Towards Becoming a Millionaire
You can follow all of my progress on my returns page, through my monthly updates and through this page here. I don't share dollar details, however, I do share exactly how much I passively earn (in percentage) from each platform, and my progress towards Financial Independence. You could always plug in your own numbers and determine how long it would take!
I know through saving, being frugal with unimportant things and by investing, I will reach 1 million dollars. Its a matter of WHEN not IF.
How about you? Are you inspired to join the million-dollar club? Head over to Budgets are Sexy by J Money and see the progress of other like-minded people also in the club!
Leave some love in the comments!
Matt