Warning For Grupeer Investors
I currently do not invest in Grupeer as there are currently too many problems with the platform. These include changes to Grupeers team, blocking of Grupeers bank accounts, and the potential for fraudulent Loan Originators, among other things. Withdrawal payments have been blocked since March 2020.
There is currently legal action underway. More about that here.
A P2P investment account is classed as an alternative investment (compared to things such as share trading, term deposits etc). What is P2P investing? P2P means peer-to-peer (i.e. from me to you) and allows one a person to take a loan from another person. This allows borrowers to bypass a bank or other official financial institution. The result – better loan interest rates for the borrower, and a higher investment interest rate return for the investor. These returns can be much higher than interest, term deposits and other financial investments. Grupeer currently offers up to 15% return on P2P investments!
About Grupeer
Grupeer (www.grupeer.com) is a Latvian P2P platform, created in 2016. Grupeer works in a similar way to Mintos, whereby acting as a platform that allows loan originators to issue loans. Currently, Grupeer only accepts money transfer from licensed credit institutions of the European Economic Area, and only deals in Euros. Loans issued on Grupeer focus on investments in credit deals (i.e. secured loans issued to individuals or small businesses), and development projects.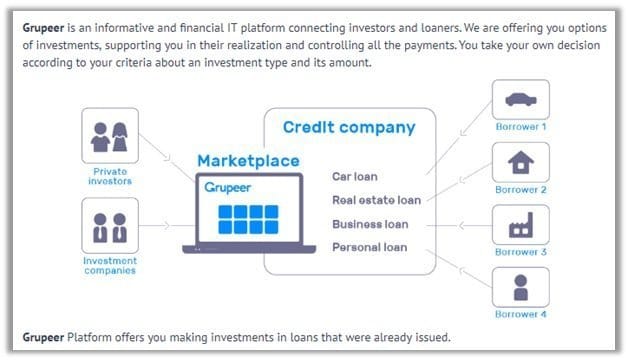 Grupeer Statistics
Grupeer SIA, the limited responsibility company was registered in Latvia in November 2016.
The Grupeer investment base has over 25,000 investors from 92 different countries.
The yearly average return to investors stands at 13.19%.
Over €81 million has been issued on the platform.
My Returns through Grupeer
I have been investing in Grupeer since July 2018, without any problems. See my graphs below to see what returns I have been achieving! These charts are automatically updated each month.
Please note, each crowdlending platform (at the moment I am invested in 7) takes only a portion of my crowdlending portfolio, which in turn takes up only a small portion (10-15%) of my overall investment portfolio. See
My Returns
to find out more about what my portfolio is made up of.
Grupeer Account Set Up
Creating a Grupeer account is easy, as shown in my article: How to create a Grupeer account.
To send money to your Grupeer account, you need to find your personal id number under the "Deposit/Withdraw" tab. On that page you will find the banking details of Grupeer SIA to which you can make payments. When making payments, it is important to include your payment ID in the details of the payment, otherwise the money will be returned to your account.
Money can be sent from your TransferWise account (as seen in the picture below), however, a withdrawal cannot be made from the Grupeer platform to your TransferWise account. Grupeer save the details of the account that money is received from to verify who to return money to once you decide to make a withdrawal. Unfortunately, TransferWise do not send the money from your TransferWise specific European bank account. Money will be sent from a group TransferWise account and Grupeer will not return money to that account. However, to get around the TransferWise problem, investors can open another European account through a digital bank platform such as Revolut. Revolut acts in a similar way to the borderless account that TransferWise offers, however, will send money using the specific European banking details (IBAN, Swift Code, Bank address etc) that they provide you with.
If you already live in the EU, and have an EU bank account, you can use those details and not have to worry about the above.
Note: In regards to Transferwise Grupeer have this comment:
Important announcement regarding TransferWise
Please be advised that we do not recommend making transfers via TransferWise. The payments via TransferWise are sent from its general account and therefore arrive to us as undefined. In case you send the funds via TransferWise the identification of your payment according to the AML policy requirements may result in a delay or refund. We strongly recommend you to fund your Grupeer posting account from a personal bank account using relevant banking details shown below.
Grupeer Buyback
Currently, all loans offered through Grupeer have a buyback guarantee associated with them. That means that the loaners that issue the loans to investors, are obliged to buy back loans if no payment has been made for 60 days. The buyback obligation is a result of the initial agreements between Grupeer and the credit companies issuing the loans.
Grupeer Collateral Loan Protection
Some loans on the Grupeer platform are covered under a "Collateral Loan Protection". Collateral loan protection applies to loans that are fully covered by property or other assets that a borrower offers to secure the loan. Loans with an umbrella icon next to their name are covered under the protection.
Grupeer Auto Invest
As with other P2P platforms (Bondora, Mintos etc.), Grupeer offers an automatic reinvestment tool, termed "auto-invest". The reinvestment feature allows investors to set automatic investments according to set criteria. The auto-invest feature allows investors to choose:
loan type (Mortgage, Car, Business, Personal, Development Project)
country
loan originator
interest rate interval (%)
investment term interval (investment time in months)
strategy auto-invest limit
max amount per project
repayment type (amortization)
expiry date of the reinvestment strategy.
Grupeer investors can only create up to 10 reinvestment strategies. Grupeer also includes an Auto-invest manual to answer helpful questions that may arise from the Auto-Invest tool
The external FAQ available on Grupeer currently does not include information about the auto-invest feature.
Grupeer Secondary Market
On the Grupeer platform, there is an option for "Secondary Market" under the Invest tab, however, this feature does not seem to have commenced yet.
The secondary market on Grupeer will most likely reflect those on other platforms such as Bondora and Mintos.
Grupeer Cashback
The Grupeer P2P platform has a bonus program referred to as Grupeer cashback. What it means, is that if you invest in a P2P loan that has the cashback deal applied, you will receive that value back into your account. Cashback offers usually have set conditions, including a specific time frame that the offer is open. As per the FAQ on Grupeer – cashback is calculated from the amount of the deal. Cashback offers are usually set at 1%.
Grupeer Referral System
Grupeer, like other P2P investment platforms (Bondora, Mintos etc.) offers a referral program to its investors. The referral system is open to everyone who has opened a Grupeer account.
The referral system allows investors to earn additional income regardless of purchasing P2P investments. For simplicity, I will refer to the one referring a friend or other individual as the referrer, and the one who has been referred as the recipient.
Referral links are foundunder the "Refer a friend" menu section of your account.
The amount that you can earn varies with the loans that the recipient invests in. Each time someone uses your link (like this), they will be provided with 10€, and you (aka the referrer) will be provided with 1% of their investments for the first 3 months. This money comes from Grupeer's advertising budget – not from the person you have invited.
Grupeer Referral Link
Under "Refer a friend" you will see several methods of sharing your referral link. The easiest way is to get your url (for example https://www.grupeer.com?invited_by=grp_1001880) and then send that to friends, share on your blog, social media or other creative ways that you may choose.
You can also access little widgets that Grupeer provides. You can place these on your blog, or other spots to which you are authorised to share your link!
Investment risks
The investment risks of making investments through Grupeer are similar to all of the other P2P platforms. You can find more information about P2P investment risks in P2P investing.
Grupeer Review
I have been investing in Grupeer for a couple of years now without any problems. The platform is very similar to Mintos, and could be good for someone new to P2P investing. It is important to note, that Grupeer accepts money from TransferWise, however, will not be able to distribute money back into your TransferWise account. To get around this issue, it may be an idea to use another money transfer company, such as Revolut, which will provide a free account in your name.
Please note: Before investing in anything do your own due diligence and research. Nothing in this article is financial advice. Just one man trying to share his working and investing experiences!